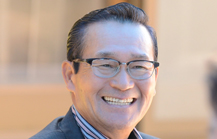 We have been good at housing reform, but this time we are aiming to increase sales and profits within three years by providing management support for listed small companies.

Currently, we have developed into one listed company, Katitas Co.,Ltd.(http://Katitas.jp/)
We have incorporated an audit corporation and are preparing to list.
Capital is increasing every year too.

A professional management consulting group helps the management of your company with IT and AI technology to improve performance. The technologies make your company's strengths stronger, replenish weaknesses so that turn them into strengths.

We also increase capital for companies with insufficient funds.